StandUP4SEALs is excited and honored to announce our 2014 Master of Ceremonies, Lieutenant Commander Ben Charles!
LCDR Ben "Julie" Charles graduated from Ocean City High School in 1995.  He received an appointment to the United States Naval Academy where he received a Bachelor of Science degree in Ocean Engineering.  After graduation, LCDR Charles was commissioned into the United States Navy in May of 1999.  Ben attended flight training in Pensacola, Florida and was winged a Naval Flight Officer in February of 2001.  After flight training, he received orders to VS-41 "Shamrocks" in San Diego, California for S-3B "Viking" Replacement Aircrew Training.  LCDR Charles then received orders to the "Red Griffins" of VS-38 stationed in Coronado, California and deployed with CARRIER AIR WING TWO attached to the USS CONSTELLATION (CV-64) in support of OPERATION SOUTHERN WATCH and ultimately OPERATION IRAQI FREEDOM in 2002.  With the Red Griffins, LCDR Charles flew multiple combat missions and logged almost 1,000 hours in the S-3B Viking.
After a short stint as an S-3B instructor in San Diego, California, Ben returned to flight school to attend pilot training in Corpus Christi and Kingsville, Texas.  LCDR Charles was designated and winged a Naval Aviator in 2006 and moved to Lemoore, California to pilot the F/A-18F "Super Hornet" with the "Black Knights" of VFA-154.  While attached to the Black Knights, LCDR Charles embarked on multiple combat deployments attached to CARRIER AIR WINGS NINE and SEVENTEEN onboard USS JOHN C. STENNIS (CVN-74) and USS RONALD REAGAN (CVN-76) in support of OPERATIONS IRAQI FREEDOM (OIF) and ENDURING FREEDOM (OEF).
In October 2010, LCDR Charles received orders to VFA-122 "Flying Eagles" and Strike Fighter Wing Pacific as a Department Head and an F/A-18A-F Instructor.  During his tour in VFA-122, Ben received his MBA from the Naval Postgraduate School in Monterey, California.  Currently, LCDR Charles is serving as the Fleet Project Team lead with Strike Fighter Wing Pacific in Lemoore, California and has just received orders to CARRIER AIR WING ELEVEN to serve as the Strike Operations officer where he will return to sea onboard the USS NIMITZ (CVN-68).
LCDR Ben Charles has accumulated over 2,500 flight hours and 350 carrier arrested landings.  His personal awards include Strike/Flight Air Medal, Navy Commendation Medal (2), Navy Achievement Medal (2), and various other awards.
LCDR Charles is married to Heidi of Portland, Oregon and they have two children, Avery and Gus.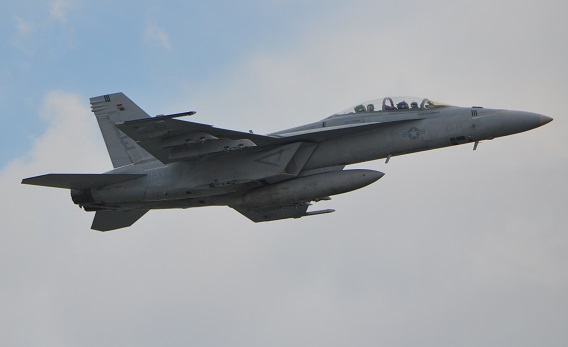 September 2012 – LCDR Ben Charles Fly Over of Ocean City, where our Course will take place this year.