We are honored and excited to showcase our Custom Hand Crafted Wooden Award Paddle Board that will be on displayed year round at OC Paddleboard. Winners will be added to the board each year.
A big thank you to Stephen Scolari for donating and crafting this amazing wooden Paddle board for our incredible cause.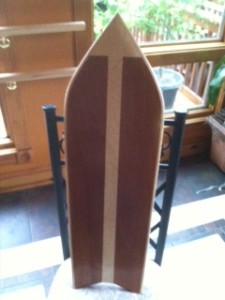 'Get in the Fight' and Join StandUP4SEALs on Memorial Day Weekend by racing, paddling, running or just cheering at the 2nd Annual StandUP4SEALs Beach Challenge in Ocean City, New Jersey on Saturday, May 24th. This event will begin at 7:30AM and the race will take place at 8:00AM. Staging will be held at the Ocean City Music Pier. Thousands are expected to attend, don't miss this fantastic event taking place to honor our Country's heroes and their families.
There are currently two different registration processes, First: The Obstacle Course Challenge, Obstacle Course Team Challenge and Kid's Fun Run (AthletePath) and the second will be strictly for the SUP Ocean Challenge (PaddleGuru). You are welcome to register for both the SUP and Obstacle Course Challenges and we encourage doing so, but it will require two separate registrations. To be a WPA sanctioned SUP race event we were required to use PaddleGuru for registration, which will only enroll athletes for the SUP Ocean Challenge.
Online registration closes on Thursday, May 22nd, 2014. On-site registration will be available on Friday (the day before the event) and Saturday (the day of the event), but we highly recommend you pre-register to get better pricing and reserve a race t-shirt in your size.
https://www.memorialbeachchallenge.com/register/
Get in the fight today on behalf of the families that are left behind, to honor the fallen, and prove that no one will be forgotten. Each one of these men and women is someone's child, many of them are brothers or sisters, even more are parents, and all of them are heroes.
StandUP4SEALs is an official partner of One Team One Fight, a partnership between the Navy SEAL Foundation and the Travis Manion Foundation.